Main Content
Upcoming Rutgers Events
There are no events scheduled at this time.
Past Events
The Daniel Gorenstein Memorial Award and Lecture – Dr. Mark Gregory Robson,
Tues. Oct. 19, 2021 4:00 pm,
"Rutgers – A Public University in the Land Grant Tradition that Provides Opportunities: How We Can Teach Our Students to Address Critical Global Issues."
---
Managing Uncertainty: Financing, Workforce, & Sustainability
Thurs. Oct. 28, 2021 9:00 am – 12:00 noon – Rutgers Business School 6th Annual Business Community Engagement Symposium. Speakers: Lei Lei, Dean, Rutgers Business School – Newark and New Brunswick, Kelly Brozyna, CEO and State Director, NJSBDC
---
Emerging technologies Using Artificial Intelligence & Machine Learning and How They are Transforming the Fields of Life Sciences, Medicine, & Health
Sept. 29, 2021 3:00 PM Dr. Paul Weber will discuss emerging technologies using Artificial Intelligence & Machine Learning and how they are transforming the fields of Life Sciences, Medicine, & Health! Learn how these fascinating technologies are making us healthier!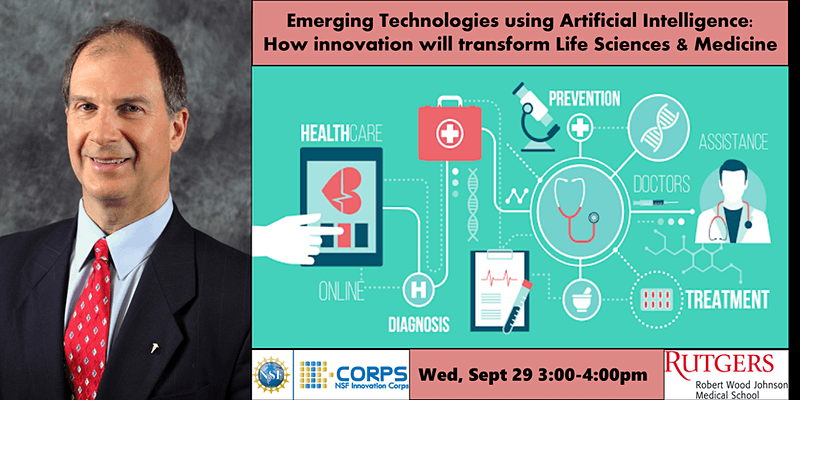 Come join our next Virtual Event sponsored by I-Corps@Rutgers to hear Dr. Paul Weber, Associate Dean of Continuing Medical Education for Robert Wood Johnson Medical School & New Jersey Medical School, share some insights into these powerful new technologies and the potential for transforming healthcare! This event is for:
Faculty/staff/student researchers in the region developing novel & unique deep technologies relating to AI/ML, especially in the health-related fields
Student innovators interested in learning about or developing their own software innovations
Program Leaders/Educators who want to learn how to support innovation among their program participants/students
---

First Impressions: A Review of the 2020 NJ Hemp Production Season
Tues., Oct 13, 2020 6:00 pm A wonderful opportunity to hear about the new Rutgers hemp research program and learn about findings from the first year of planting. An event worth attending for anyone interested in growing hemp, especially those interested in growing hemp in New Jersey. Hosted by the New Jersey Agricultural Experiment Station (NJAES). Organized by Anna Molinski and Dr. Connie Pascal. Moderated by Dr. Tom Gianfagna, Professor, Department of Plant Biology. Webinar includes a lab research panel and a field research panel.
---
Find Funding Fast! Overview of the PIVOT Software Tool
Wed., Sept 16, 2020 3:00 pm How PIVOT software can help automate your search for funding! Guest Speaker and PIVOT Trainer, Tanya Volkert from Rutgers Office of Research & Economic Development will give an overview on how to use the PIVOT software tool. By the end of the overview, you should be familiar enough with PIVOT to run your own funding searches, customize it to fit your needs, and know where to go for help. Register today to attend our short info session and Q&A. Please share with a friend or colleague who is also looking for funding from Federal Agencies, Non-Profits, Foundations, Corporate grants, etc.

Ecosystem Events:
Women Entrepreneurs: Why Investors are now embracing Women Startups
Tuesday October 26, 2021, 11:00 am A panel of investors and women entrepreneurs discuss why women startups have been underfunded and offers their unique point of view as to the key elements that lead to successful funding of women startups.

---
Effective Marketing and Networking in a Virtual World on a Budget,
October 27, 2021, 12:00pm, This event is hosted by SCORE, In today's virtual world we are networking and marketing our businesses differently. How we network online is just as critical as if we were in person shaking hands and giving out business cards. Online advertising and marketing strategies are also a major key to creating brand awareness, knowing who your customers are, where they are and keeping them engaged. We will cover how you can optimize your networking and marketing strategies to help create business success in a virtual world. Presenters are Amanda Mundo, the founder of Social Hero Brands which helps businesses with their marketing and online presence strategies, and Julie Brander, a Certified SCORE mentor, workshop presenter, and speaker.
---
The Hybrid Workplace and Digital Transformation
Thur. Sept. 10, 2020 2:00 pm The Hybrid Workplace and Digital Transformation Ricoh has assembled a panel of experts to offer valuable insights on adapting company culture, brand, and strategy to adapt to new market demands and the complexities of having employees work from both home and the office. Speakers include: Joji Tokunaga (President and CEO, Ricoh Americas), Jeb Dasteel (Former Chief Customer Officer at Oracle), Phil Styrlund (CEO Summit Group), and Tracy Schroeder (Vice President and Chief Data Officer, Information Services and Technology at Boston University).
Rice Alliance Energy Tech Venture Forum
Tues – Thurs. Sept. 15 – 17, 2020 Rice Alliance Energy Tech Venture Forum – Accelerating energy innovation and sustainable solutions Virtual Program: 9 am -12 noon; Showcase 1:00 – 5:00 pm – In its 18th year, the Energy Tech Venture Forum, hosted by The Rice Alliance for Technology and Entrepreneurship, is the premier energy tech venture capital conference to connect energy innovators, investors, corporates, and the energy ecosystem—both traditional and renewable. This year's virtual forum will showcase 40 promising energy tech companies that are boldly creating the future of energy, as well as a keynote and panel from industry leader. (Free)
Founder Series: Giving Your Best Pitch to VCs
Wed., Sept. 16, 2020 5:00 pm Founder Series: Giving Your Best Pitch to VCs – Sponsored by IndieBio New York. How can you go from giving your pitch to getting your next meeting? In this session by IndieBio NY, they cover what an investor really wants to hear when you pitch your company. Attendees should be able to understand * How and why you need different pitch decks * What keeps the listener engaged; *The pieces investors most want to hear. (Free)
What is the Drug Development Process and How is it Changing?
Thurs., Sept. 17, 2020 5:00 pm What is the Drug Development Process and How is it Changing? Sponsored by IndieBio New York. Is COVID-19 changing the drug development process, and if so, will these changes endure after the pandemic ends? Join to hear an interview with two drug development experts who will address these questions and more.